Get online health insurance quotes for free
Online health insurance quotes under the Kaiser Premium Health Builder can be accessed through Kaiser International Health Group's website. Kaiser Premium Health Builder has two payment options: spot cash and five-year-pay. The five-year-pay is more beneficial to the insured because of the "waiver of premium" feature when something happens to the insured. When you pay on spot cash, the waiver no longer applies.
I got a health care plan for my 21 year old son. I just got the cheapest plan considering that he is still young. He can get another plan on the 6th year should for added protection. Below is a sample of health insurance quotes which vary with issue age: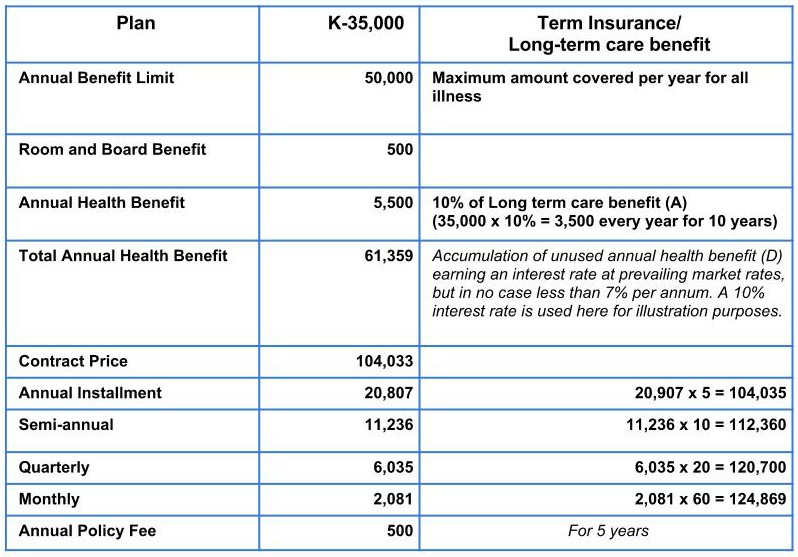 I. Health Care Benefits During Accumulation/Paying Period
1. Annual Physical Examination (after payment of one year)
Physical examination and medical history taking
Chest x-ray
Routine urinalysis
Stool examination and fecalysis
Complete blood count
Electrocardiogram (for members 35 years old and above)
2. Dental Benefits (after payment of one year)
Unlimited dental check up
Dental prophylaxis (mild cases only) once a year
Unlimited simple tooth extraction
Temporary filling (one per year)
3. Waiver of installment due to death
4. Waiver of installment due to disability
5. Basic medical benefits
Accredited Hospital's Room & board @ 500/day
Services of accredited Physician
Services of accredited specialist
Services of accredited surgeon
Services of accredited anesthesiologist
Hospital's Intensive Care Unit
Operating Room Fee
Annual Benefit Limit of 50,000
II. Benefits During Extended Period
Annual Health Benefit: 10% of long term care benefit (10% of 35,000=3,500) for 10 years starting at the end of the 5th year up to the end of the 15th year
Term life from accumulation until the 15th year
Accidental Death & Dismemberment
III. Long Term Care Benefits
Total Annual Health Benefit

=

61,359

Add: Long Term Care Benefit =

35,000

Equals: Total Health Benefits =

96,359

Add: Long Term Care Bonus

If no claim was made during the accumulation period, 70% of all premiums paid will be given back on the 15th year =

80,026

Equals: Total Long Term Care Benefit at Maturity =

176,385
Long term care benefit at age 60 (with bonus) = 1,737,349
Annual Lifetime Health care at age 60 (with bonus) = 173,735
Long term care benefit at age 65 (with bonus) = 2,798,019
Annual Lifetime health care at age 65 (with bonus) = 279,802
Important Information:
Room and board benefit is covered only for the accumulation period. For the extended period, your choice of room and board budget shall be charged to your Annual Health Benefit/Extended Benefit Balance
Pre-existing medical conditions are not covered during the Accumulation Period.
PhilHealth covered expenses are deducted first before Kaiser.
Lifetime Network Access to over 500 hospitals and over 1,000 doctors as long as you have funds
Definition of pre-existing medical conditions: A disease is considered to be pre-existing if the following cases are present:
Such illness or injury was in any way evident to the Member before the Effective Date of the Contract
Any professional advice or treatment was obtained prior to the Effective Date of the Contract
The illness or injury can be clinically determined to have started prior to the Effective Date of the Contract.
Medical conditions disclosed in the application form.
(Note:The company reserves the exclusive right to change, update and revise prices at any given time).
For free health insurance quotes, please provide your age together with specific queries using the form below: